Sustainability, recyclability, slow fashion – these have long been recognizable trends in up-and-coming designs. But the expertise of the major global players in the textile and fashion sector is also increasingly focusing on these topics. Is it just a trend or a fundamental decision to switch to a sustainable, ecological economy? Let's talk about it! In our discourse series CUT UP!
CUT UP was launched in 2015 by Bridge&Tunnel together with Frauke von Jaruntowski and designxport to call up the topic of sustainability in fashion and textile design for the Hamburg location. In 2017 and 2018, the focus will be on Hamburg and beyond and the topic will be discussed nationally.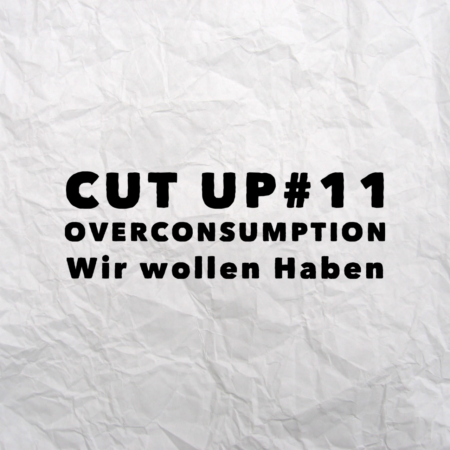 OVERCONSUMPTION
Wir wollen Haben
06. Dezember 2018, 19:30 pm
Last year, the French label Vêtements thematized overconsumption in the fashion industry with a window display at Saks Fifth Avenue in New York by decorating it with nothing but a pile of old garments. Just a marketing gag or an honest and courageous statement by the cult label against the escalating battle of materials concerning the endless purchase of new clothes?
It is a fact that the people of the western world buy a lot – preferably cheap – wear their bargains for a short period of time and quickly throw them away. In figures, this means that around 5 items of clothing are bought by German consumers every month.
The Problem is simple: people buy without much hesitation, because nowadays clothes do not completely fleece your wallet. Sadly the bought items often ends up in the garbage after being worn once – with fatal consequences for our society and our eco-system. According to Greenpeace, about 1.3 million tons of clothing are disposed in Germany every year. But where do they go? The used clothing markets in Africa, South America and Asia are on the verge of collapsing, because we are overflooding them with our unwanted acquisitions.
WE ASK:
Does buying make one happy?
How do the needs for "more and more" originate?
How is desire aroused?
And what alternatives are there?
OUR GUESTS:
Sandra Coy, Tchibo, Press Spokeswoman Corporate Responsibility (confirmed)
Anna Schunck, Journalistin & Co-Founderin des e-mags Viertel Vor (confirmed)
Silke Wawro, TU Dortmund, Institut für Kunst und materielle Kultur (confirmed)
Moderation:
Irina Rohpeter, Irina Rohpeter Modedesign Hamburg